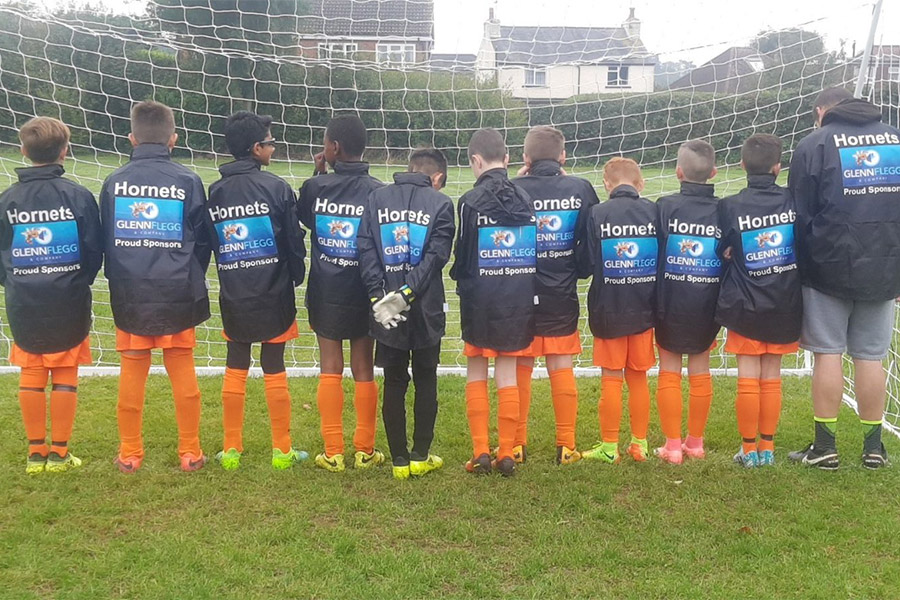 22 May

Proudly Sponsoring Football in the Local Community

You may remember our announcement in October last year that we have started sponsoring Langley Hornets FC. It's been a fantastic season for the boys involved and we have been very proud to see our logo on their kits and jackets.
Behind the Scenes
Aside from their achievements on the pitch the club as a whole gives a wonderful opportunity to players in the local area to play football in a safe an enjoyable garden and we couldn't be prouder to be associated with such a great set up.
This small, family friendly club which puts the enjoyment of the players above all else and is run entirely by volunteers and their dedication is tantamount to the success of the club. While many of the volunteers are parents of the children who play there is always room to add to the team. Langley Hornets FC are always on the lookout for people to contribute their time to help bring the beautiful game to the children so if you would like to get involve make sure you get in touch with Sam Hood, Club Secretary.
On the Pitch
On the pitch, the lads are doing brilliantly. One of the U11 teams won their development league while the other is in the Plate Final at the end of this month. Their U15 and U16 teams are also growing as they start to think about their transition into men's football.
The current senior squad, who also carry the Glenn Flegg logo on their shirts, have had an abundance of success over the past few years winning a number of league and cup titles and with another one hopefully being added this season.
The Community
The fundamental message that we see from this club is that youth football is the foundation of all amateur football clubs. The more enjoyment a player gets from their early football career the more likely they are to continue playing into their adult lives. This is why we love this club. They are a community focussed club and even run free sessions on a Saturday morning for children in receptions and years 1 & 2 – all for the benefit of the children and to build the club, not to make money.
You may have gathered by now that we are extremely proud to support the club in their activities and wish them many more years of success – we can't wait to see what next season holds for them.
The Business Bit
Remember if you are looking at buying or selling property in the area, make sure you get in touch with us – as one of the leading estate agent in Slough and the surrounding areas we have great reach to a thriving market and can offer maximum exposure to potential buyers or tenants. You can also follow us on Facebook, Twitter and LinkedIn.